Are you ready to elevate your festive season to the next level? Look no further than Gravity MAX Liverpool, where Christmas isn't just a holiday, it's an adventure.
The team at Gravity MAX are excited to present '12 Days of ChristMAX', a calendar of live events and offers to keep you entertained and in the festive spirit throughout December. Plus, get ready to ring in the New Year in style at their banging New Year's Eve Party!
Gravity MAX Liverpool will be hosting a day-long celebration on Christmas Eve which promises to fill your heart with joy and merriment. From 11am until late, they'll be bringing you live entertainment and soulful renditions of everyone's festive favourites. What better way to get into the Christmas spirit?
As the year comes to a close, it's time to get ready for the biggest event of the season. Head to Gravity MAX on New Year's Eve for a night of glamour, music, and celebration at their banging New Year's Eve Party. They'll be hosting a Family-Friendly New Year's Eve from midday until 5pm, with the main party hitting full steam from 10pm on LIVERPOOL's LARGEST ROOFTOP TERRACE. There'll be live music, DJs, and so much more to see in 2024.
More details to be announced soon, stay tuned!
---
Book your work Christmas Party at Gravity MAX!
Get your team together, step into our festive worlds and put your team building skills to the test at one of our venues across the UK!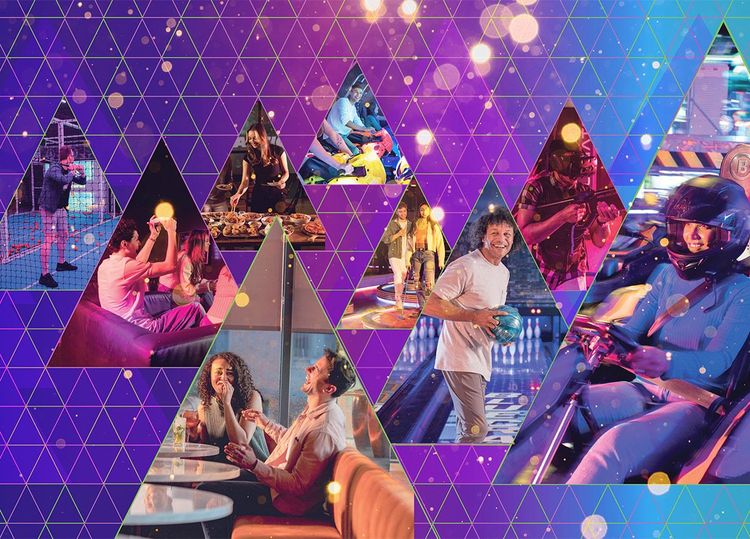 Corporate Christmas Party Packages Like No Other at Gravity MAX

Whether you're looking to spin around on the E-karting tracks, have fun with Christmas AR Bowling or take your adventure one step further with their range of Christmas Packages brimming with live music, Gravity MAX have got the event for you. With everything organised by their very own event planners, they take the hassle out of Christmas party planning.
As well as watching your team zooming around the track in exhilarating go-kart races, battling it out for supremacy in the bowling alley, or honing their precision skills in a darts showdown. Gravity MAX have interactive games for tech team Christmas party fun. The Hologate VR lets you leave the world behind and enter the virtual realm. Fight zombies and aliens, become a seafaring pirate chef, dance like no one's watching, play a game of laser tag, and finish your day with a snowball fight… on a frozen lake… against a yeti! Hologate VR Arena is the most successful multiplayer VR system in the world – and it's right here at Gravity MAX Liverpool.
The Christmas party packages are available for all celebrations from 13th November – 31st December 2023.