We've introduced new elements to the St Thomas's Memorial Gardens to celebrate and memorialise Ukrainian culture and botanical heritage.
This garden was created with the intention to provide a reflective space in amongst the exciting events of Eurovision back in May 2023.
Located at a cross section of the boundaries of Liverpool ONE, the Baltic area and the docklands, once stood as St Thomas's Church of the inner-city parish. Details of the history of St Thomas's Church, including those buried here, can be found on a panel in the west side of these gardens.
Along with many other elements enjoyed throughout the city during the 2023 Eurovision Song Contest, this garden intends to provide a reflective space, celebrating and memorialising botanical and cultural elements of Ukraine. Plants and flowers that are significant to Ukraine, along with common types that traditionally represent themes of love, family, beauty, youth, hope, wisdom and truth, have been planted to create an inviting and peaceful space.
Poetry displayed throughout the garden provides insight into reflections on Ukrainian culture and response to the tragedy of war, and displays provide a Ukrainian translation.
This garden has been planted by volunteers from the refugee community, along with the Liverpool ONE Team, with support from business partners, Liverpool ONE, resident community groups and Liverpool City Council.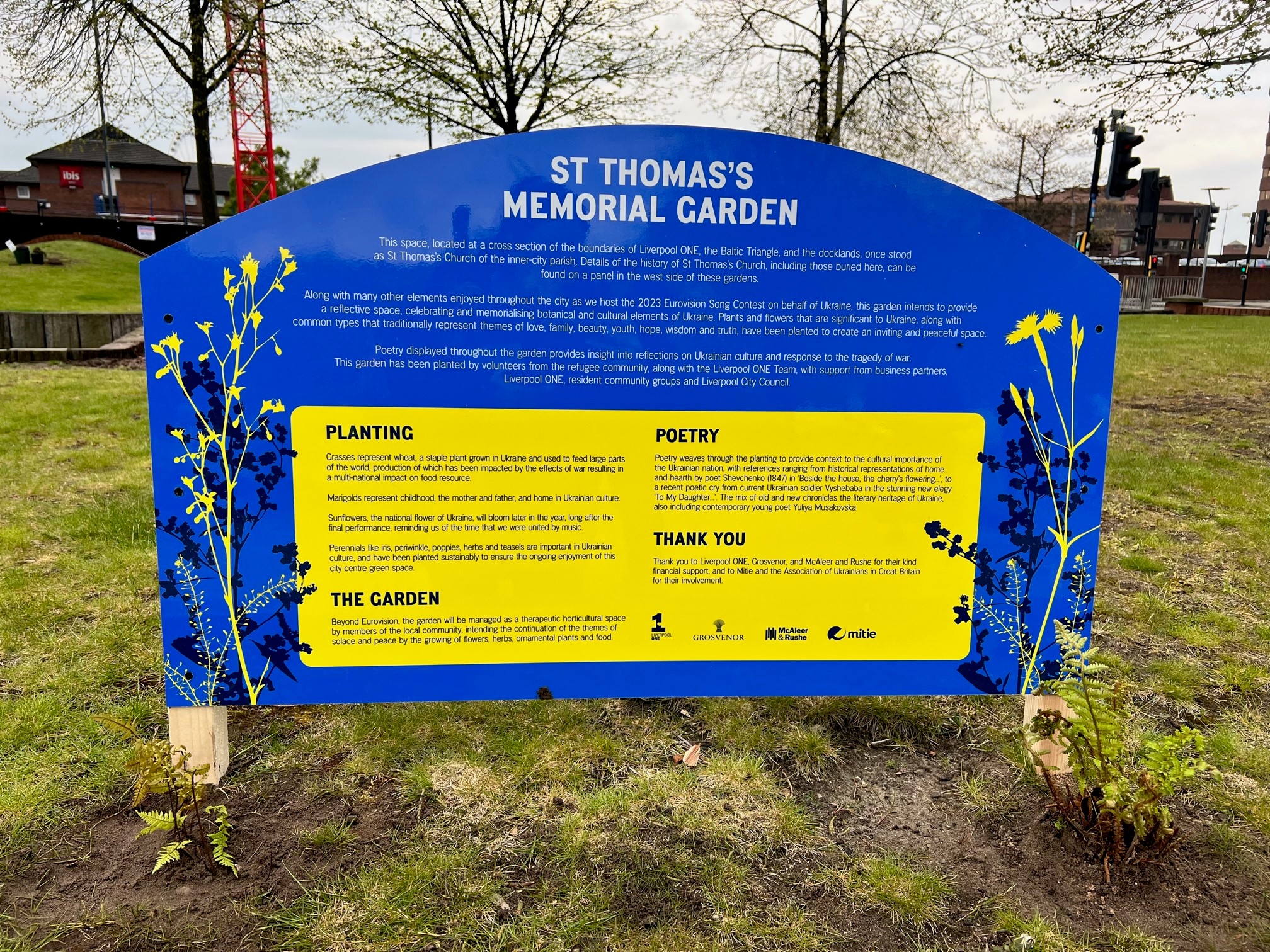 Grasses represent wheat, a staple plant grown in Ukraine and used to feed large parts of the world, production of which has been impacted by the effects of war resulting in a multi-national impact on food resource.
Marigolds represent childhood, the mother and father, and home in Ukrainian culture.
Sunflowers, the national flower of Ukraine, will bloom later in the year, long after the final performance, reminding us of the time that we were united by music.
Perennials like iris, periwinkle, poppies, herbs and teasels are important in Ukrainian culture, and have been planted sustainably to ensure the ongoing enjoyment of this city centre green space.
Poetry weaves through the planting to provide context to the cultural importance of the Ukrainian nation, with references ranging from historical representations of home and hearth by poet Shevchenko in 1847 in Beside the house, the cherry's flowering…, to a recent poetic cry from current Ukrainian soldier Vyshebaba in the stunning new elegy To My Daughter…. The mix of old and new chronicles the literary heritage of Ukraine, also including contemporary young poet Yuliya Musakovska.
Beyond Eurovision, the garden is managed as a therapeutic horticultural space by members of the local community, intending the continuation of the themes of solace and peace by the growing of flowers, herbs, ornamental plants and food.
Along with Liverpool ONE, thank you to Grosvenor and McAleer and Rushe for their kind financial support.