We recently launched a new initiative and introduced 'Happy to Chat' tables in a number of Liverpool ONE venues.
The tables provide a friendly and inviting space for you to relax and enjoy a conversation with friends, family or even someone you've just met!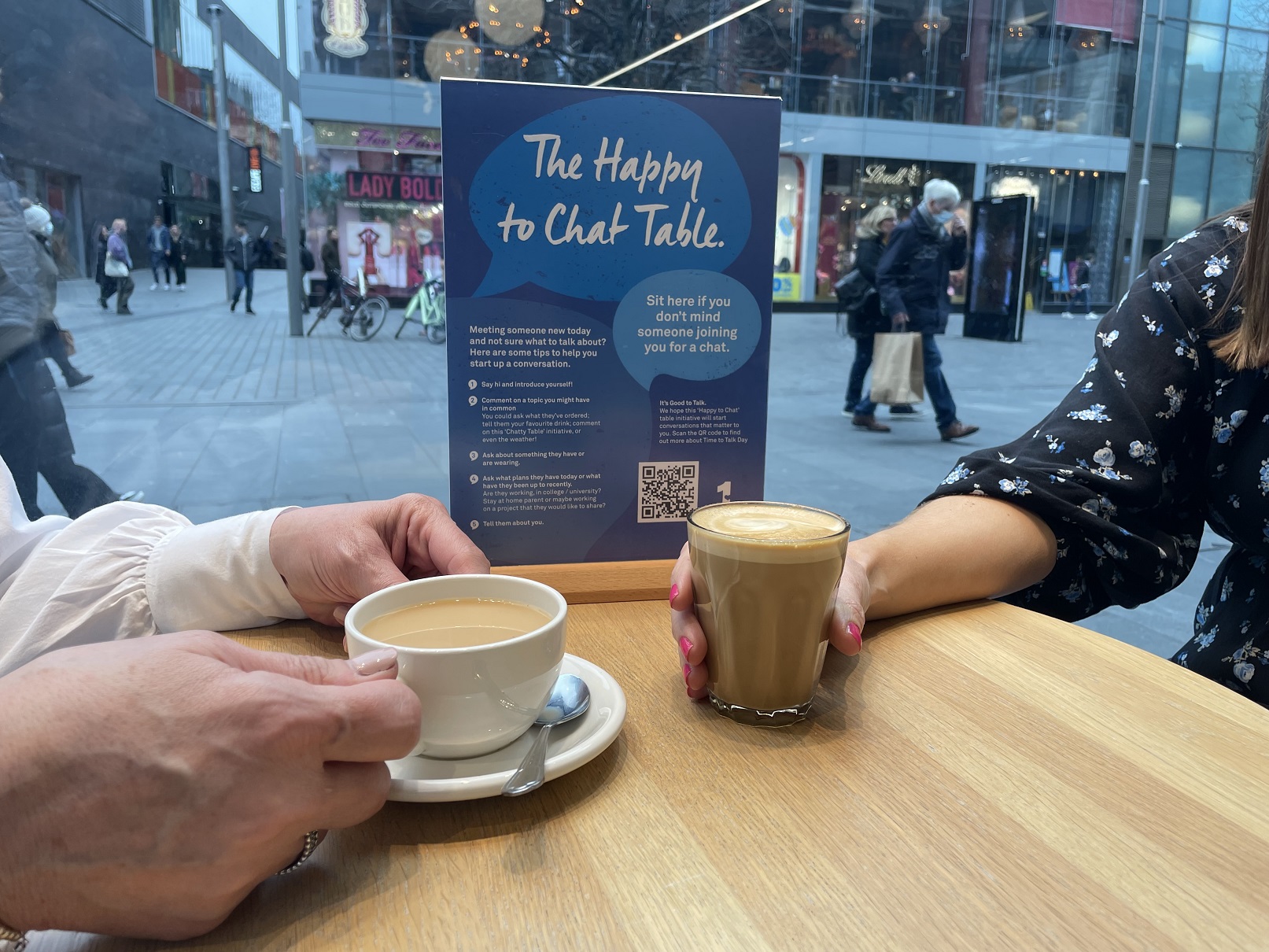 We launched the initiative as part of this years Time to Talk Day, the nations biggest mental health conversation. But we don't want the conversation to end there! The tables are here to stay and we hope they give you the opportunity to chat to lots of people, old and new!
Look out for the 'Happy to Chat' tables in The Place at Eat at John Lewis & Partners, Sky, Yard and Coop, and the WOW Bar at Beauty Bazaar, Harvey Nichols.
Do you know someone who is going through a difficult time?
Take this opportunity to invite a friend, colleague or somebody you feel may need a little support. It can be difficult to see someone going through a tough time, but you don't need to be an expert on mental health to offer support. Often small, actions can make the biggest difference.
Just want to take some time out for you?
Sometimes you just need to focus on YOU. If you want to use the space to take some time out for yourself that is ok too! Being kind to yourself is just as important as being kind to others.
We hope this 'Chatty Table' initiative will start conversations that matter to you.
Meet new people!
If you meet someone new at our Happy to Chat tables, starting a conversation with somebody you don't know can be daunting. Here are some tips to help you get that conversation flowing.
1 – Say hi and introduce yourself!
2 – Comment on a topic you both may have in common.
You could ask what they've ordered; tell them your favourite drink; comment on this 'Chatty Table' initiative, or even the weather!.
3 – Ask about something they have or are wearing.
Ask about their book or what they're reading if they have something on the table; compliment their jacket or bag, you could ask where it's from.
4 – Ask what plans they have today or what have they been up to recently.
Are they working, in college / uni? Stay at home parent or maybe working on a project that they would like to share?
5 – Tell them about you.
Get the conversation flowing and talk about you, your plans, your hobbies and what you like to get up to.