Art, Culture and Community Displays
Liverpool ONE is celebrating the vibrant spirit of

Eurovision

by commissioning a number of talented local and Ukrainian artists to create stunning pieces of art displayed throughout Liverpool ONE.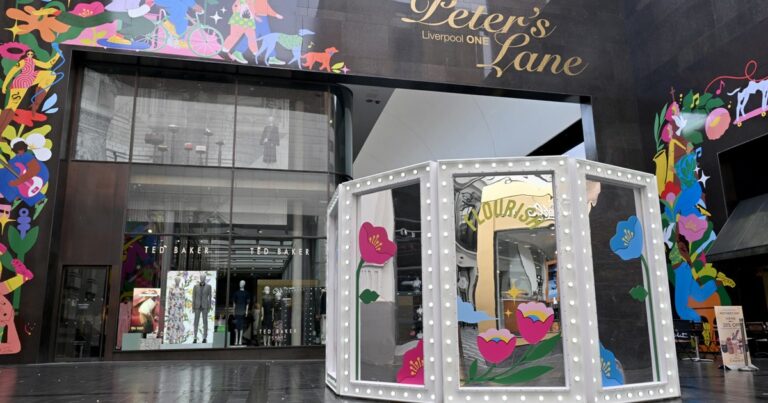 Rosa Kusabbi – Peter's Lane Mural 

Hey I'm Rosa Kusabbi an Illustrator and Animator based in Liverpool.
Inspiration:
The Peter's Square design was inspired by people, animals, Liverpool and Ukrainian buildings and symbols, with musical elements for Eurovision, evoking a joyous, springtime feel and 60's/70's album vibe.
Most excited about Eurovision:
I'm really looking forward to seeing all of the local artist/ Ukrainian collaborations taking place across some of my favourite venues such as Unity Theatre, Everyman Theatre, Lush and the Eurovision village.
Jessica Arrowsmith – Welcome to Liverpool sign

Hi I'm Jess, a local artist and designer based in Liverpool specialising in abstract murals and canvases. 
Inspiration:
The influence behind my designs was the energy and joy that Eurovision gives! The excitement and anticipation flowing throw the city are depicted here by sound waves and the vivid Eurovision colours.
Most excited about Eurovision:
The buzz leading up to Eurovision is electric! I want to dive into as much of celebrations as possible, I'm excited for Rave Ukraine and EuroCamp!
Myroslava Kochan – Chavasse Park Mural

I'm Myro, a British Ukrainian artist from Manchester – I specialise in window art, murals and freehand illustration.

Inspiration:
My designs are inspired by the vinok, a traditional Ukrainian wreath made with flowers and ribbons. Each flower has its own significance – I chose the traditional flowers of Ukraine, sunflowers, cornflowers and poppies.
Most excited about Eurovision:
I am so excited to see Liverpool get a Ukrainian makeover! There is already an amazing atmosphere and that's only going to get bigger as the competition gets closer.
Tickle the Ivories Pianos
Pysanky Giant Egg Display

Children from Liverpool and Ukrainian communities designed and decorated Giant Eggs, for a display on South John Street. 
The eggs were inspired by the Ukrainian tradition of 'pysanka' and reflect the cultures and traditions of Eurovision countries and Liverpool communities. 
The display includes 7 eggs representing each city region and an extra egg for Ukraine.
Bloom Floral Displays
Thousands of flowers have been used to create a range of stunning floral installations, all designed with the Ukrainian flag colours to celebrate Eurovision 2023.
Created in collaboration with award-winning floral design team, Poppy Bell Florals, you can find them located in Peter's Lane, College Lane, Paradise Street and Thomas Steers Way.