Art Displays at Liverpool ONE
Liverpool ONE celebrated the vibrant spirit of Eurovision by commissioning a number of talented local and Ukrainian artists to create stunning pieces of art displayed throughout Liverpool ONE.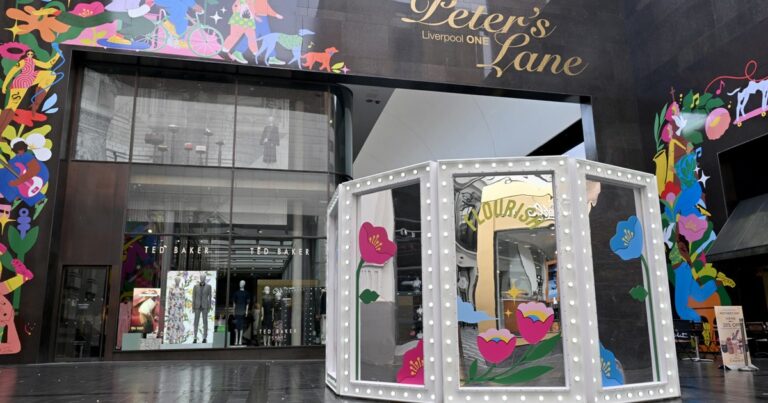 Rosa Kusabbi – Peter's Lane Mural 

Hey I'm Rosa Kusabbi an Illustrator and Animator based in Liverpool.
Inspiration:
The Peter's Square design was inspired by people, animals, Liverpool and Ukrainian buildings and symbols, with musical elements for Eurovision, evoking a joyous, springtime feel and 60's/70's album vibe.
Jessica Arrowsmith – Welcome to Liverpool sign

Hi I'm Jess, a local artist and designer based in Liverpool specialising in abstract murals and canvases. 
Inspiration:
The influence behind my designs was the energy and joy that Eurovision gives! The excitement and anticipation flowing throw the city are depicted here by sound waves and the vivid Eurovision colours.
Myroslava Kochan – Chavasse Park Mural

I'm Myro, a British Ukrainian artist from Manchester – I specialise in window art, murals and freehand illustration.

Inspiration:
My designs are inspired by the vinok, a traditional Ukrainian wreath made with flowers and ribbons. Each flower has its own significance – I chose the traditional flowers of Ukraine, sunflowers, cornflowers and poppies.
Tickle the Ivories Pianos